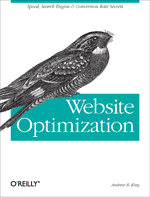 CSS Sprite Tool - Web Analytics Book - Japanese Broadband World's Fastest, Cheapest - Optimization Week of November 21, 2007
Optimization Week Issue #89, November 21, 2007
In this issue we've got three new items for you. Thanks to a reader tip we discovered a new CSS Sprite generator tool. The boys at Yahoo! are cranking out High Performance Website books, and the site below is a preview for their new book due out in 2008. Next up our latest Bandwith Report finds Japan well ahead of other countries in broadband speed and price per unit of bandwidth.
The companion site to the upcoming book "High Performance Web Site Techniques," includes a new CSS Sprite Generator tool. Written by Ed Eliot and Stuart Colville, the new Apress book distills the performance knowledge of these two engineers while they were working at Yahoo! The book is due out in early 2008.
Jason Burby and Shane Atchison of ZAAZ fame have written a new book on web analytics. The book's focus is on using analytics that can make a difference to your ROI. The book is less a how-to than a why-to book; a manifesto if you will on the case for using web analytics. You'll learn how to ask the right questions, avoid common stumbling points, define measurable goals, monetize site behaviors, get the right data, analyze site performance, prioritize, optimize your site with web metrics, and choose an analytics agency. Complete with a forward by Jim Sterne, of eMetrics fame. Recommended. See also WebAnalytics.com for more information.
Japan leads the world with the fastest and lowest unit cost for broadband, according to recent data from the OECD. Japan enjoys costs per megabit per second over four times lower than that of the US. Iceland cooled off in global broadband penetration rankings falling from third to sixth from Q4 200 to Q2 2007, while the US remained in 15th place overall.