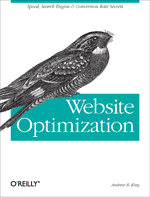 Minimize Noise to Maximize Graphic and Video Compression - High Performance Web Sites - Optimization Week of July 31, 2007
Optimization Week Issue #83, July 31, 2007
In this issue we've got two new items for you. First up we explore the somewhat esoteric world of noise reduction. The presence of noise prevents optimal compression in graphics and videos for the Web. We look at how to reduce noise in the first place, the file size effects of noise, as well as how to reduce the noise in your images. Next, O'Reilly is coming out with a new book on web site performance in September. "High Performance Web Sites" details 14 specific techniques that you can use to improve end-user response times by 20% to 25% on practically any web site. Written by Steve Souders, Chief Performance Yahoo!, the book distills down his findings after speed optimizing high profile sites like Yahoo.com for maximum display speed.
Noise is the enemy of efficient multimedia optimization. Learn how to minimize the noise in your images and videos to maximize compression.
This 256 page book presents 14 specific rules that will cut your website response time by 20% to 25%. Steve Souders, Chief Performance Yahoo!, discovered these techniques when profiling and speed optimizing Yahoo!-based properties to maximize speed. Many of the techniques we talk about in our Speed Tweak series are there, but some are new. These include keeping Ajax cacheable and small, turning off ETags to improve caching, avoiding redirects, removing JS duplicates, minimizing the number of domains referenced in your objects, and avoiding CSS expressions. See also High Performance Websites: Rough Cuts, SteveSouders.com, and Yahoo! Developer Network - Performance Rules for more information.