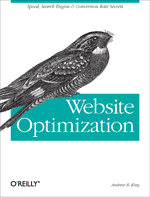 About Optimization Week
Optimization week is a weekly news magazine devoted to high speed web sites. Each week we'll bring you reviews of particularly noteworthy sites (be they slow or fast), new techniques in our speed tweak of the week, and news from the optimization industry. We'll survey the latest standards-based news and views to keep you apprised of the latest. Last but not least, we'll keep you up to date with the latest from Website Optimization, LLC and its free Web Page Analyzer.
Subscribe Today to our Free Newsletter
Your subscription is free, and you can rest assured that we will not share your email with third parties (unless of course we are acquired, and we'll be sure to let you know about that). To subscribe, enter your email in the form on the right, and you'll receive a confirmation email to confirm your subscription.
Read the latest news about Optimization Week.
About Website Optimization, LLC
Website Optimization, LLC is a Web Performance and Internet marketing firm dedicated to increasing ROI through the optimization of existing web sites.
We want to hear from you
If you've got a new product or service related to efficient sites, let us know.
Office Location
Optimization Week
Web Site Optimization, L.L.C.
3134 Sunnywood Dr.
Ann Arbor, MI 48103-2063
734-476-6611 (vox)
734-332-1042 (fax)
Contact us