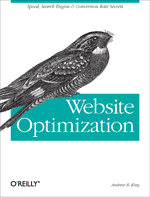 Sitemap
To go to any section of OptimizationWeek.com click on the appropriate link below to take you there. The sitemap below outlines the high-level structure and organization of this site.
A weekly news magazine on the optimization industry by Andy King. Andy King is the the author of Speed Up Your Site: Web Site Optimization, and an acknowledged expert in the field of web site optimization.
Here you'll find past issues of Optimization Week, along with categorized content for your reading pleasure.
We review web sites, books, and research related to the web performance industry.
Contact the editor for story ideas and news.
Don't miss our free page analysis and recommendation tool.
For more information about our Optimization Week, please fill out our contact form or call us at 734-476-6611.