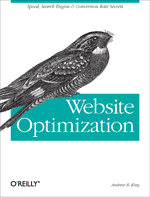 Website Optimization Secrets Book News - US Broadband Penetration Breaks 90% - Ann Arbor News Interviews Andy King - Optimization Week of August 7, 2008
Optimization Week Issue #98, August 7, 2008
Since the launch of our new book last month, it's been a busy few weeks. The reviews are starting to come in, and we've started a new blog to keep track of the latest book news. Broadband penetration in the US finally broke 90%, among active Internet users, and my hometown paper the Ann Arbor News interviewed author Andrew B. King about the new book.
We've launched a blog for our new book. In it you'll find the latest news, reviews, interviews, and releases about the book. If you've got a review of the new book, contact us so we can add it to the blog. Roy Johnson of Mantex UK wrote "This latest magnum opus goes way beyond that [Speed] in scope and depth. It's a guide to maximizing every aspect of a website and its performance. It's an amazingly practical manual." We've also created a banner ad for the book. Help spread the word about website optimization.
For the first time, US broadband penetration broke ninety percent among active Internet users in June 2008.
The Ann Arbor News interviewed author Andy King for their July 20, 2008 issue. By Tina Reed.