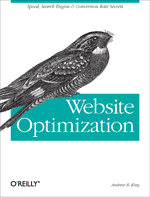 Website Optimization Secrets Now Available - Two Sample Chapters - Book Release Celebration - Optimization Week of July 16, 2008
Optimization Week Issue #97, July 16, 2008
We're happy to report that the new Secrets book is out! Website Optimization Secrets is now available at Amazon.com, and should be available at your local bookstore soon. It's been a long strange road indeed. Thanks to everyone involved in the process, especially the chapter contributors. To whet your appetite, we've made two sample chapters available to preview the book. Finally, for a limited time all current and new subscribers to this newsletter have a chance to win a free signed copy of my new book, Website Optimization Secrets.
Our new book is now available at Amazon.com. Eighteen months in the making, this new book shows you how to optimize your website for higher visibility and performance. Distilling decades of expert wisdom into a handy 367-page volume, this book shows you how to persuade browsers into becoming buyers. The book is an animal book from O'Reilly featuring a nighthawk on the cover.

Website Optimization Secrets Companion Site

By Andrew B. King
O'Reilly Media, $39.99
Pages: 367
ISBN: 0596515081
ISBN 13: 9780596515089
UPC: 636920515081
EAN: 9780596515089
Due: July 16, 2008 (released at Amazon.com)


Reveals the top 10 factors that you can use to maximize the conversion rate of your site. You'll learn how to use persuasive copywriting and credibility-based design to turn your website into a more efficient sales tool. Through benefit-oriented copy, applied psychology, and source credibility, you can persuade visitors to take positive action and increase their desire to buy. This chapter also shows how to craft a unique selling proposition (USP), use risk reversal, leverage value hierarchies, and use personas to engage visitors and get them to act.
This chapter demonstrates the benefits of natural SEO and best-practice WSO techniques. You'll learn how conversion rate optimization, credibility-based design, natural SEO, and a dash of PPC were used to increase the number of new clients for a business by a factor of 47. Thanks to Dr. Ken Cirka and his staff for permission to use his firm as a case study.
For a limited time, we're giving away one book a week to current and new subscribers to our Optimization Week newsletter. As a reward to all of you loyal readers we're making everyone who is currently subscribed, as well as any new subscribers a chance to win. Every week, we'll randomly pick one lucky winner and send them a signed copy of my new book, Website Optimization. Help spread the word and tell your friends.