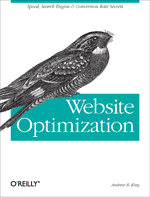 New Book: Website Optimization Secrets - Growth of Average Web Page - Slashdot Effect - Optimization Week of May 1, 2008
Optimization Week Issue #95, May 1, 2008
We're pleased to announce our new book on Website Optimization from O'Reilly Media. Years in the making, this book shows how search engine marketing, conversion rate optimization, and web performance tuning can be combined to boost the ROI of your website. Below you'll find the new companion site for the book, with more on the way. In the coming weeks we'll be highlighting key techniques and trends from the book on WebSiteOptimization.com. In our first installment we show how the average web page has grown in size and complexity over the years, tripling in size since 2003 and nearly doubling in the number of objects. Finally, we quantify the effect of being Slashdotted.
Announcing our new book, Website Optimization Secrets, the definitive guide to optimizing web sites. With this book you'll learn best practice search engine marketing, conversion rate optimization, and web performance tuning techniques to fully optimize your website. The results are higher search engine rankings and more engaged users. The book closes with a web metrics chapter that is sure to knock upper management off their charts. Topics covered include:

Search engine optimization

addressing best (and worst) practices to improve search engine visibility, including step-by-step keyword optimization guidelines, category and tag cloud creation, and guerilla PR techniques to boost inbound links and improve rankings.

Pay-per-click optimization

including ad copywriting guidelines, setting profit-driven goals, calculating and optimizing bids, landing page optimization, and campaign management tips.

Conversion rate optimization

increasing leads with site landing page guidelines, such as benefit-oriented copy, credibility-based design, value hierarchies, and tips on creating unique selling propositions and slogans.

Web performance tuning

optimizing ways to use (X)HTML, CSS, and Ajax to increase speed and reliability, and reduce your download footprint. Includes multimedia optimization tips to shrink videos.

Advanced web performance tuning

including client-side techniques such as on-demand content, progressive enhancement, and inline images to save HTTP requests. Server-side tips include improving parallelism, using cache control, browser sniffing, HTTP compression, and URL rewriting to remap links and preserve traffic.

Web metrics

illustrating the best metrics and tools to gather details about visitors and measure web conversion and success rates. Covers both search marketing metrics and web performance measures including Pathloss and waterfall graphs.

Website Optimization not only provides you with a strategy for success, it also offers specific techniques for you and your staff to adopt. A profitable website needs to be current, well designed, highly responsive, and optimally persuasive if you are to attract prospects, convert them to buyers, and get them to come back for more. This book describes precisely what you need to accomplish to achieve all of those goals.

So what are you waiting for? Pre-order your copy of Website Optimization Secrets book today.

By Andrew B. King
O'Reilly Media, $39.99
Pages: ~400
ISBN: 0596515081
ISBN 13: 9780596515089
UPC: 636920515081
EAN: 9780596515089
Due: July 15, 2008


Within the last five years, the size of the average web page has more than tripled, and the number of external objects has nearly doubled. While broadband users have experienced somewhat faster response times, dial-up users have been left behind. This article shows trends in the average web page for size, number of objects, composition, and web video growth over time.
We were fortunate enough to be Slashdotted this week for our Average Web Page story. What is it like to be Slashdotted one reader wrote? We checked our logs, and our unique visitors spiked by a factor of 2.4 on Monday and by 1.5 on Tuesday over our average. Our page views went up by 2.6 times on Monday and 2.4 times over our average on Tuesday, as the story cycled off Slashdot's home page. With our dedicated server our site fared better than it has in the past after getting Slashdotted, remaining available most of the time.