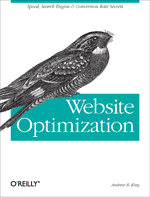 Influence Book Review - CSS Sprites: How Yahoo.com and AOL.com Improve Web Performance - Optimization Week of October 3, 2007
Optimization Week Issue #87, October 3, 2007
In this issue we've got two new items for you. First up we review the popular book "Influence: Science and Practice," 4th ed. by Robert Cialdini. This book shows how to use the six persuaders to influence people to say "Yes!" In our new Speed Tweak we explore the world of CSS sprites. We look behind the screens of two of the most popular sites on the Web to see how they use sprites to improve web performance for their millions of users.
We review and summarize a classic book on human psychology. Influence shows us how six core techniques are used to persuade people to say yes. Through dramatic examples and psychological principles Robert Cialdini shows how "influence practitioners" tap into our mental shortcuts to get people to comply with their requests. Oct. 3, 2007.
Learn how AOL and Yahoo! use CSS sprites to improve performance for their busy home pages. CSS sprites save HTTP requests by using CSS positioning to selectively display composite background images. To maximize accessibility and usability, CSS sprites are best used for icons or decorative effects.