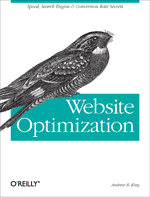 Google Dominates Top Video Sites - The Power of Internet Job Recruiting - Optimization Week of July 19, 2007
Optimization Week Issue #82, July 19, 2007
In this issue we've got two new items for you. First up in this month's Bandwidth Report we report on the popularity of video sharing sites. Armed with the latest data from Nielsen//NetRatings we find Google leading the pack with an award-winning performance in the top video sites category. With its acquisition of YouTube Google now has over 4.4 times the unique users as its nearest competitors. In other news we recently conducted a job search on the Internet, read on for details on the power of the Internet.
With its acquisition of YouTube, Google now dominates the top ten video sites on the Internet in unique users, stickiness, and growth. Despite accounting for a small fraction of files on the Internet, web videos account for a disproportionate amount of traffic. Meanwhile broadband penetration among active Internet users grew to 83.23% in US homes in June.

The Power of Internet Job Recruiting

We recently had an urgent need for a Ruby on Rails expert for a client. We immediately posted a couple ads to Craigslist and a Rails job recruitment site. Within a few minutes we had three qualified candidates. We were amazed at the speed of response. While interviewing the initial candidates, five more came streaming in. In less than four hours we had hired a highly qualified firm that specialized in addressing the Ruby on Rails issues that our client was facing. This kind of immediate response to specialized job talent needs is not possible with print classifieds. The Internet disintermediates the process and puts companies in direct contact with job applicants, speeding up the process.

In less than a week most of the client's problems had been addressed. We plan on retaining the Rails team we found for future projects. Overall we were impressed with the reach and power of the Internet when searching for specialized talent.