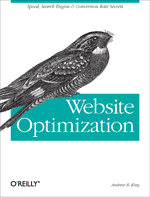 Poem from Slow Shopping Sites Delay Santa: Scrooge Response Times
Optimization Week Issue #8, Dec. 24, 2003
Optimization Week will be on holiday until January 2004, stocking up on good cheer with family and friends. In the meantime, in case you missed the latest version, here is the poem we featured in our holiday shopping site review. The poem is an adaptation of "'Twas the Night Before Christmas."
Happy Holidays From OptimizationWeek.com:
'Twas the week before Christmas, and all through the Net,
Web executives dreamed of the perks they would get;
The graphics were hung by their logos with care,
In hopes that St. Nicholas soon would be there;
The children were nestled all snug in their beds,
While visions of Playstations danced in their heads;
And mom on her Wintel, and I on my Mac,
Had started to surf for one final knickknack.
When there on my screen 'lo what should appear?
But a broken down sleigh, and eight weary reindeer.
With a bent-over driver, so dull and so slow,
Weighed down by a burden more heavy than snow.
"What cruelty," he fumed "what heart black as coal,
Would keep me from meeting my gift-giving goal?"
I knew in a moment that it must be St. Nick,
Stuck in the quagmire of web sites not quick.
From oversized graphics to overstuffed code,
It became very clear what was slowing the load;
"Now, DASHER! now, DANCER! now, PRANCER and VIXEN!
These overslow web sites we must be a fixin'!"
As dry leaves that before the wild hurricane fly,
When they meet with an obstacle, mount to the sky,
So up to speed guidelines these shop-sites must go
To fill homes with presents and rake in the dough.
Poetry collaboration by Bob Peyser, Andy King, and either Clement Clarke Moore or Major Henry Livingston, Jr.
http://www.optimizationweek.com/reviews/shopping/
Happy Holidays,
Andy King
Managing Editor
OptimizationWeek.com