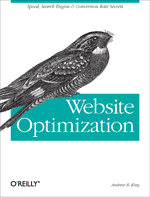 Replace GIF with PNG Images - Web Page Analyzer 0.964 - Optimization Week of April 3, 2007
Optimization Week Issue #78, April 3, 2007
In this issue we've got two new items for you. First find out why switching from GIFs to PNGs can save you big bytes off your bandwidth bills. We show some real-world examples of GIF versus PNG images. The differences in file sizes are significant. One item of note we found when interviewing Greg Roelofs is that there is an effort to create an animated version of PNGs using the PNG format (not MNG). Next we've updated our Web Page Analyzer to version 0.964 to support IP filtering, by request. Finally, we're nearly done with a major update to the Web Page Analyzer that includes a number of requested features. We'll keep you posted.
PNGs are designed to be a more efficient, flexible, and patent-free replacement for GIFs. By replacing your GIFs with PNGs you can speed up your web pages and save bandwidth. March 31, 2007.
By request we've updated the analyzer to support IP filtering to prevent accessing objects from ranges of IP addresses.