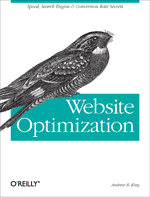 US Broadband Penetration Breaks 80% Among Active Internet Users - Canadians Log Most Time Online - Optimization Week of March 19, 2007
Optimization Week Issue #77, March 19, 2007
In this issue we report on the latest broadband trends. In the US, broadband penetration broke 80% for the first time in February with 80.16% of active Internet users logging in via broadband. North of the border, Canada beat the US and the rest of the world for hours spent online. Canadians spend nearly 40 hours a month overall online, with broadband users spending over 41 hours a month online.
Of the top ten countries surveyed by comScore Networks broadband users were 3.1 times more likely to be online than narrowband users. Our comScore contact provided some data beyond their public press release that shows Canada has more than a 14 point lead in broadband penetration over the US, viewing over 33% more web pages than the average US user. Is is really that much colder up there?
US broadband penetration broke 80% among active Internet users in February 2007. Canada spends more time online than any other country, according to a recent survey by comScore Networks. Mar. 19, 2007.