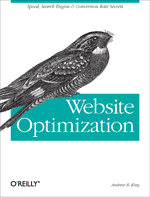 iTunes Popularity to Surpass RealPlayer in 2007 - European Broadband Growth Slows - Web Page Analyzer 0.963 - Optimization Week of February 26, 2007
Optimization Week Issue #76, February 26, 2007
In this issue we report the latest multimedia player statistics and an update to our Web Page Analyzer. First, Apple iTunes is poised to pass RealPlayer to become the second most popular multimedia player in 2007. While Apple has consistently shown double-digit growth rates, RealPlayer and Microsoft's Windows Media Player have lagged the pack with single-digit growth. Next we've updated our Web Page Analyzer to version 0.963, adding a download time feature for each object by user request, as well as a bug fix to download time calculations.
Unique iTunes users will exceed RealPlayer users by the first half of 2007, according to projections by Website Optimization. European broadband penetration growth is slowing as the US approaches 80% penetration among active Internet users. Feb. 26, 2007.
We now calculate download times for each object type by user request. Also fixed a lagging bug when calculating total page download time. Feb. 8, 2007.