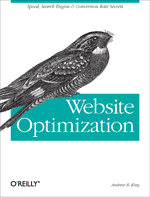 Home Broadband Growth Doubles with 42% of all Americans on High-Speed - DSL overtakes Cable - US Broadband Penetration Jumps to 71.8% Among Active Internet Users - Combine Images to Save HTTP Requests
Optimization Week Issue #65, June 15, 2006
In this month's Bandwidth Report we summarize a recent Pew Internet report on broadband adoption in the US. We project overall broadband penetration to pass 50% by January 2007. Meanwhile, DSL usage has quietly passed cable in the US, mimicking European broadband composition trends. In the latest Speed Tweak learn how to combine images and optionally imagemap to save precious HTTP requests.
Home Broadband Growth Doubles with 42% of all Americans on High-Speed - DSL overtakes Cable - US Broadband Penetration Jumps to 71.8% Among Active Internet Users

Home broadband adoption has doubled over the past two years with 42% of all Americans using a high-speed connection at home. Broadband is fueling a digital renaissance with 35% of all Internet users posting content to the Internet, most of which are on broadband. DSL has passed cable in the US, and broadband penetration among active Internet users jumped 1.3 percentage points to 71.76% in May 2006.
Learn how to reduce the number of HTTP requests required by your web pages by combining adjacent images and optionally imagemapping the links. This tutorial shows both client and server side techniques you can use to save precious HTTP requests and speed up your site.