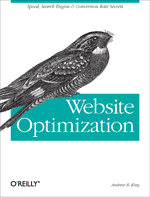 U-M Google Digitization Project - US Broadband Nears 70% Among Active Internet Users - Professional Website Graphics Optimization Service - Optimization Week of April 18, 2006
Optimization Week Issue #62, April 18, 2006
We report on John Wilkin's talk on the Google-University of Michigan digitization project. US broadband penetration is poised to break 70% among active Internet users by April 2006. The US-Canadian broadband gap is closing rapidly, according to Website Optimization. We've introduced a new graphics optimization service designed to shrink large graphics to maximize speed.
John Wilkin, librarian at the University of Michigan, discusses the partnership between UM and Google to digitize 7 million bound volumes. The project is part of Google's quest to become the modern equivalent of Alexandria.
US broadband penetration will break 70% this month among active Internet users, according to projections from Website Optimization. The US has narrowed the gap with Canada in broadband penetration. In the US, cable is losing its dominance over DSL for Internet service.
We've added a new service to our growing stable of website optimization offerings; graphics optimization. Our Photoshop experts optimize your web graphics to speed up page download times and reduce bailout rates. Our graphic designers use the latest image optimization techniques to optimize your web site graphics while maintaining quality.
We've changed the company name to Website Optimization, LLC to better reflect what people are searching for. In the state of Michigan we're now doing business as Website Optimization (DBA).