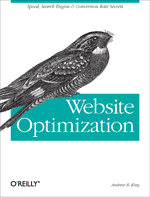 Apple's iTunes Player Climbs Streaming Media Charts - PC Time Tracks Broadband Penetration - US Broadband Penetration Jumps to 68% Among Active Internet Users - Optimization Week of March 22, 2006
Optimization Week Issue #60, March 22, 2006
This time we've got a new bandwidth report for you on the growing usage of streaming media players. Podcasting has become popular, according to data from Nielsen//NetRatings and Apple. WebSiteOptimization.com forecasts that the iTunes player will eclipse RealPlayer in mid-2006 in unique users, second only to Microsoft Windows Media Player. We received some good comments from readers, and got some answers for you from Netratings.
We're currently reading The Google Story by David Vise and Mark Malseed. It is an entertaining read with a behind the scenes look at the formation and explosive growth of Google, but you won't get any search engine secrets from the book.
Apple's iTunes Player Climbs Streaming Media Charts - PC Time Tracks Broadband Penetration - US Broadband Penetration Jumps to 68% Among Active Internet Users - March 2006 Bandwidth Report

Podcasting is taking off and iPods are seemingly ubiquitous. Unique users of Apple's iTunes player should pass RealPlayer by mid-2006 with nearly 30 million users in the US alone. People are tuning in over twice as long with iTunes than with RealPlayer or Windows Media Player. As broadband penetration increases we are spending more time on our computers.