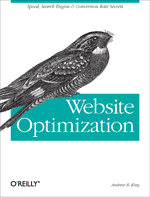 Internet Videos Spawn Performance Anxiety - Bookend Lists: Using CSS to Float a Masthead - Optimization Week of February 28, 2006
Optimization Week Issue #59, February 28, 2006
This time we've got two new stories for you. First up with the recent success of the iPod, IPTV looming on the horizon, and NBC's cybercast of the gold-medal Olympic hockey game, Internet pundits are wondering if the infrastructure can handle the increased load of these byte-heavy videos. Can the Net and our web servers handle these larger digital videos? The rural-urban broadband divide appears to be closing, and US broadband continues its march towards the 70% barrier. In our latest Speed Tweak we explore how bookend lists can float your boat to either side of a nav bar.
Internet Videos Spawn Performance Anxiety - Rural-Urban Broadband Gap Closing - US Broadband Penetration at 66.7% Among Active Internet Users - February 2006 Bandwidth Report

As higher bandwidth content streams to more bandwidth-hungry users quality of service can suffer. Some industry experts are wondering if the Net can scale to handle the load. Meanwhile, the rural-urban broadband penetration gap is closing in America. Broadband penetration rose to 66.7% among active home users in January 2006.
Learn how to create that 'bookend' look with lists and CSS positioning. This CSS-layout technique saves a significant amount of XHTML code over tables.