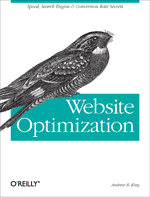 China will pass US in Broadband Lines in Late 2006 - Worldwide Broadband Survey - US Broadband Penetration Breaks 65% - First Impressions Count in Website Design - Optimization Week of January 23, 2006
Optimization Week Issue #58, January 23, 2006
This time we've got two new stories for you, plus a new blog. First up in this month's Bandwidth Report we survey the world for broadband usage and penetration. At its current growth rate of over 90% per year, China will overtake the US in total broadband subscribers by late 2006. Little Slovenia will pass the US in broadband penetration in early 2007 if the past is any indicator of the future. Finally, we add psychology to our Speed Tweak series, and convert Speed Tweak into a blog complete with RSS newsfeeds. First impressions happen very quickly on the Web, in as little as 50 milliseconds users form a reliable assessment of your site. We interview the lead author of the "first impression" study, and show the actual best and worst three pages that test subjects evaluated.
China will pass US in Broadband Lines in Late 2006 - Worldwide Broadband Survey - US Broadband Penetration Breaks 65% - January 2006 Bandwidth Report

China will pass the US in total broadband subscribers by the end of 2006. The US fell to 19th overall in broadband penetration worldwide, and is in danger of being passed by Slovenia in early 2007. Meanwhile, in December 2005 US broadband penetration broke 65% for the first time among active Internet users.
Web designers have as little as 50 milliseconds to capture the interest of potential customers. Through the halo effect, first impressions can influence subsequent judgments of website credibility and buying decisions. This issue marks the our conversion over to a blog format for Speed Tweak. Same content, now available as RSS and ATOM feeds.
We're pleased to announce the launch of the Speed Tweak as a weblog. Powered by Movable Type, all the past issues have been converted over to MT format. Feel free to comment on current or past stories, and subscribe to RSS feeds for the latest tweak.