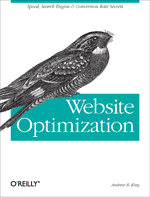 Photoshop Soup2Nuts Conference - US-Canadian Broadband Penetration Gap at 20 Points - Web Page Analyzer 0.95 - Optimization Week of June 28, 2005
Optimization Week Issue #50, June 28, 2005
In this issue of Optimization Week we've got a report from the annual Photoshop Soup2Nuts Conference, a new Bandwidth Report, and a new version of the Web Page Analyzer. First up don't miss our report on this past weekend's Photoshop & Digital Photography conference, it was a real eye-opener. As well as featuring top Photoshop and digital photographers, the conference had a digital photography contest with some stunning entries. Next our latest Bandwidth Report tracks Canada's commanding lead over the United States in broadband penetration. Finally, we've got a PHP 5.x compatible version of the Web Page Analyzer available now by popular demand.
This past weekend I attended the annual Great Lakes Digital: Photoshop Soup2Nuts 2.0 Conference from June 24 to 25 at Washtenaw Community College in Ypsilanti, Michigan. The conference featured expert speakers on a range of topics, centered around digital photography and Photoshop. Thomas Knoll, the creator of Photoshop and Camera RAW made a rare speaking appearance at the conference, as well as a cast of pixel luminaries including Scott Kelby, Dan Burkholder, Bruce Fraser, Michael Grecco, Richard Newman, Jeff Schewe, Maggie Taylor, and Jerry Uelsmann. The two-day event was packed with interesting talks and workshops on Photoshop techniques including selections, conversion, color management, Camera RAW, layers, backgrounds, masks, automating workflow, and digital photography. I talked to Thomas Knoll, the inventor of Photoshop about the latest version of camera RAW and DNG (digital negative), finding that DNG is 15-20% smaller than Canon's proprietary format, due to a more efficient compression scheme and smaller previews. I was most impressed with Dan Burkholder's sessions, no wasted words and lots of one-liners to keep things interesting. Representatives from Canon showed off their wares, including the latest 16.7 MB full-frame digital camera. When I asked how the resolution of medium format slides compared to their latest digital cameras they showed me a test that showed uprezzed (10% each time) 35mm digital photographs outresolving 6x7 drum-scanned slides! After much probing Canon's next high-end digital camera sounds like it will be over 20MB in resolution. Now, if Mamaya or Pentax would only make a 6x7 cm digital back I'd be all set.

US-Canadian Broadband Penetration Gap at 20 Points - US Broadband Penetration Crawls to 58.8% in May - June 2005 Bandwidth Report

Canadians enjoy a 20 point lead over the US in broadband penetration. U.S. broadband penetration crept up 0.36 percentage points to 58.82% in May 2005.
By popular request we've updated the Web Page Analyzer to be compatible with PHP 5.x.