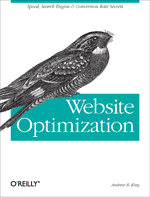 A Philadelphia Orthodontist Success Story - Fortune 1000 Platform Survey - Korean Translation of Speed - Wayne State SEO Panel - June 1, 2005
Optimization Week Issue #49, June 1, 2005
In this issue of Optimization Week we've got a Philadelphia success story, a Fortune 1000 platform survey, a new translation of our book, Speed, and another SEO panel. First up we profile a recent client who, despite a brand new domain name, is now ranked on the first page of Google for his primary keywords. SEO in isolation is good, but SEO as part of a comprehensive strategy is even better. Second Port80 Software just released a new survey of the Fortune 1000 that shows Microsoft dominating the web site landscape. Third the UPS guy has been busy lately, dropping off a box of Korean translations of Speed Up Your Site. Finally, I participated in a SEO panel at Wayne State University Tuesday night, moderated by teacher Dan Klyn.
Our latest client ordered practically every service we offer and is reaping the benefits. Drs. Roberts and de Marsche specialize in restoring beautiful smiles through orthodontic services (braces and trays) in Philadelphia Pennsylvania. After a complete site redesign, conversion rate optimization, SEO, and PPC campaign, the good doctors are smiling themselves with first page rankings for their primary keywords. Their web referrals have more than doubled. Dr. Roberts says, "Wow, I'm getting really good placement in searches (#1 for philadelphia orthodontists) and am showing quite well on the other searches. Thanks! Patients are starting to call for consultations."
Port80 Software just released a survey of the Fortune 1000 finding 43.6% use Microsoft platforms, 12.2% use Java, and 5.2% use PHP. Server-wise 53.7% use Microsoft IIS, while 22.7% use Apache.
of Speed Up Your Site: Web Site Optimization is now available. May 2005
Linda Girard and Andy King participated in an informal SEO panel moderated by Dan Klyn of Fry, Inc. Tuesday night for Dan's IA class (Library and Information Science 7080). The library-science-oriented students quizzed us with SEO and search engine-related questions that we endeavored to answer, and a lively discussion ensued. Dan kept the class interesting with his patented humor and graphs and charts showing the latest trends from the industry.