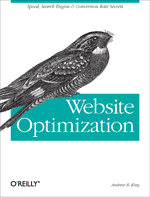 US Broadband Penetration Climbs to 53.6% - U.S. a Generation Behind in High-Speed Broadband - Crop Images Contextually - Secure64 - Analyzer Desktop
Optimization Week Issue #42, December 17, 2004
This week we've got lots of new content and news for you. This month's Bandwidth Report finds U.S. broadband penetration climbing to 53.6%, but the United States is a generation behind Japan and Korea in high-speed broadband adoption. In our Speed Tweak learn how cropping images contextually saves bandwidth and user frustration. Secure64 is in the news, with a Register story detailing the company.
Closer to home, we've completed work on a desktop version of our Web Page Analyzer with Serlient from Triplehash. With Serlient, you can convert PHP programs into desktop ".exe" files to work on Windows desktops. We'll be rolling out this software to selected licensees for evaluation.
US broadband penetration climbed 0.73 percentage points to 53.59% in November 2004. The U.S. is a generation behind in high-speed broadband, according to Technology Futures, Inc.
Cropping images in context gives faster downloads and higher impact. By cropping maximally and resizing you can convey meaning without slowing down your web pages.
The Register broke the news about a new startup dubbed Secure64 that is set to release a web server accelerator appliance in early 2005. CEO Peter Cranstone says the new product, optimized specifically for Intel's 64-bit Itanium chip, is secure and up to 20 times faster than existing servers. Placed between your server and your network, the Secure64 Web-Edge Accelerator utilizes 64-bit HTTP compression, SSL acceleration, and caching to dramatically speed up web transactions while preventing DoS attacks. The Register, Dec. 1, 2004.
By popular demand we've completed work on a desktop ".exe" version of our popular Web Page Analyzer program. The desktop version runs on Windows machines and supports authentication just like the licensed server version. Serlient from Triplehash cc converted our PHP code to executable .exe with few changes required to our code. We'll be rolling out the desktop version to selected licensees in the near future.