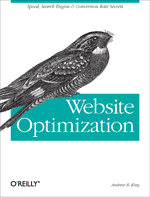 Use Server Cache Control to Improve Performance - US Broadband Penetration Drops to 51.3% - FCC Approves Broadband Over Power Lines
Optimization Week Issue #39, October 25, 2004
This week we continue our optimization of our new dedicated server with a look at optimal cache control. Using only a few lines of code in your configuration files can mean big savings in bandwidth and user frustration. In other news, broadband penetration stalled in the US in September, and the FCC rules on broadband over power lines.
Learn how to configure your Apache server for more efficient caching to save bandwidth and improve web site performance.

US Broadband Penetration Drops to 51.3% Among Active Internet Users - FCC Approves Broadband Over Power Line Rules

For the first time, US broadband penetration decreased among active Internet users in September 2004. In an effort to boost US broadband penetration the FCC Thursday approved rules governing broadband over power lines.