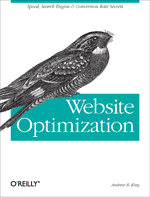 US Narrows Canadian Broadband Lead - Multimedia: Use Lossy Compression for Smaller GIFs and PNGs
Optimization Week Issue #22, April 26, 2004
In this month's Bandwidth Report, the US has narrowed the "broadband gap" with Canada. Canadian broadband penetration seems to be tapering off. Is there a broadband saturation point? In this week's Speed Tweak we explore the benefits of "lossy" compression with GIFs and PNGs.
The US has narrowed Canada's broadband lead by 9.2%. US broadband penetration grew by 12.2% to 46% over the past year, while Canadian broadband adoption grew just 3% to 67% over the same time period.
Lossy compression lets you squeeze more bytes out of your GIFs and PNGs. Lossy compression increases identical pixel patterns to improve compression in indexed-color images.