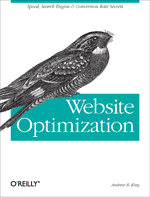 Flowing with Yann Arthus-Bertrand - Multimedia: Use a Ball Head
Optimization Week Issue #16, Mar. 12, 2004
This week we have a special photography issue for you. For a change of pace we give a positive review of YannArthusBertrand.org, the companion site for Earth from Above. Caution: Yann's stunning aerials and efficient Flash presentation may cause the flow state in some viewers. In this week's Speed Tweak of the Week we show the benefits of using a solid ball head. A high quality ball head combines mobility with effective vibration dampening.
We review Yann Arthus-Bertrand's site to view the Earth from Above and find it flow-inducing. Look behind the scenes to see how the designers used efficient Flash and percent-done feedback to keep users engaged.
A solid ball head dampens sharpness-robbing vibration for smaller images and videos for the web. We compare some pro-level ball heads and offer some tips for sharper photographs.