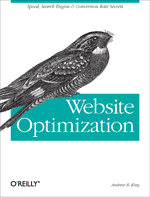 The Best Travel Tripod, PPC Optimization II, Performance Hosting - Optimization Week of Jan. 3, 2018
Optimization Week Issue #136, Jan. 3, 2018
Happy New Year! After a hiatus we're back and better than ever. In this issue we talk tripod, PPC & hosting optimization. First up we optimize a sturdy travel tripod to be even more compact and lightweight with third-party parts. Next, we show best practices in how to optimize your PPC campaigns using different ad text, ad extensions, wordplay & humor, and strange attractors. We also explore early warning metrics to help you quickly optimize ad text in your PPC campaigns. Finally, we show the performance benefits of upgrading to a new more powerful server. Upgrading your server is often the most effective way to improve performance for a slow web site.
You can tailor your tripod to your own needs with third party parts. We modified a sturdy Gitzo GT4552TS Systematic traveler tripod from a 4.7 lb model to a lighter 4.24 lb packable that easily fits into a carry-on bag.
Learn the best practices of PPC ad text optimization. Use your limited space wisely and follow (or break) these guidelines to find the best ads. Iterate these alpha ads, then rinse and repeat. Even small changes can have big effects.
Adding ad extensions to Call Only campaigns can boost click-through and conversion rates by 15% or more.
In Google Adwords, you can use phone call metrics as an early warning system to optimize text ad conversion performance. Avoid scary PPC ad spend using fast-reported phone calls.
Humor and wordplay can make your advertising stand out from the crowd. Unexpected word combinations and humor attract valuable attention and can garner higher PPC click-through and conversion rates.
Learn how using strange attraction in your ad text can lower CPC and boost CTR and conversions. Grab attention with letter and symbol combinations to optimize PPC campaigns.
In this case study, moving from a shared to dedicated server improved TTFB by 75% and repeat view load times by 70%. A more powerful dedicated server with solid-state drives reduced TTFB by 60% to 75% for repeat and initial views respectively.