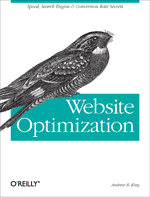 Website Speed and Search Rankings Study, Faster Server Case Studies, Form Conversion Rate Optimization - Optimization Week of Feb. 25, 2015
Optimization Week Issue #133, Feb. 25, 2015
In this issue we've got something for everybody, plus a story that definitively links website speed with SEO. First up a new study on speed and SEO rankings found that Google has indeed been telling us the truth. A team of Polish researchers have confirmed that crawl time and its variability influence search engine rankings. Page load time had a weak and insignificant correlation with search rankings. This means that webmasters can help their search rankings by ensuring that their HTML and CSS are minimal, well-integrated, and delivered from a consistently fast server.
Along those lines we've got some case studies on the beneficial effects of upgrading to faster servers, and two articles showing the effects on actual sites converted to responsive designs. Next we show how to optimize your contact forms by minimizing the number of fields and steps/pages taken to complete them. Finally we review the oft-maligned Healthcare.gov server one year after its inauguration.
This article summarizes the results of a study on load time factors in Google search engine rankings. The empirical study found that website crawl time and its variability strongly correlates with search engine position.
A new responsive design improved key metrics for both desktop and mobile visitors. Engagement metrics improved and lead generation increased by nearly 15%.
Upgrading to a responsive design has many benefits, including speed. A new design for PhillyDentistry.com tested about twice as fast.
After one year of improvements, how fast is the healthcare.gov website? While the site is more available, response times have slowed down by 62% to 78% over the past year. We offer some triaged recommendations to improve the speed of healthcare.gov.
What happens when you convert a site to be mobile responsive? Mobile traffic increased by 24% and mobile browsers stayed 80% longer after a responsive redesign.
Moving to a faster server can cut page load times by more than half, and improve behavior metrics like conversion and exit rates. We use Google Analytics to test Walkerworldtrade.com before and after a server upgrade.
Learn how a combination of form optimization and speed improved conversion rates by more than 92%,
We further explore the results of upgrading to a faster server. Overall the site showed improved response speed and website "stickiness." Average page load times improved by 48% to 60% server response times improved by more than 60%, and people stayed longer, viewed more pages, and bounced less.
Upgrading to a faster server can improve web page speed significantly, up to 66% faster for first paint time and 29% for load times. We moved an example site to a faster server to test the performance improvements.