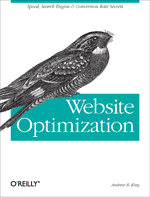 Velocity Contest, HTTPS Search Ranking, Speed & SEO, Average Web Page - Optimization Week of August 20, 2014
Optimization Week Issue #132, August 20, 2014
In this issue we've got a contest, some news, and new content for you. First up we've partnered with O'Reilly in a contest for a free pass to the next Velocity NYC. Next Google has announced that SSL has become a ranking factor for websites. SSL isn't just for ecommerce anymore. Next we look at how speed can improve your SEO rankings, desktop and mobile. Finally the size of the average web page has broken the 1600K barrier.
CONTEST: Free Pass to Velocity NYC

We've teamed up with O'Reilly to offer subscribers a chance to win a free 2-day pass to the O'Reilly Velocity Conference in New York, a $1650 value. Velocity is the premiere conference for web performance and I can say from experience that they are well worth the effort. Mobile and desktop performance, operations optimization, workshops, quality keynotes, and innovative ideas abound. Below you'll find the top 5 reasons to attend this year's conference in New York City. Come up with a 6th reason and tweet it with our @woptimization and hash tag #velocityconf or post to our Facebook page and we'll choose and announce one lucky winner in the next newsletter within the next two weeks.
Top 5 Reasons to Attend Velocity NYC Conference
WebsiteOptimization.com

NET NEWS: Google Uses HTTPS as Ranking Factor

Google has announced that they are now using HTTPS as a search ranking signal. In an effort to make the Internet safer, Google is now factoring in HTTPS encryption as a ranking signal to about 1% of global queries. To allow webmasters time to adopt HTTPS Google is starting with a lightweight weighting, but may increase the weight of HTTPS in the future. Google offers some guidelines in the post below, and a site testing tool.

As many of you know Google has factored in website speed as a ranking factor since 2010. Towards that end and factoring in the new HTTPS ranking signal, we're rolling out a new faster server service with optional HTTPS security to select clients. The new servers use high speed solid state drives and other enhancements to boost site speed, and HTTPS to improve security. We'll have a case study available shortly to document the improvements in site speed. Note that search rankings have been correlated to time to first byte (TTFB) by moz.com.

Having a consistently "responsive" site will ensure that your site will be crawled and fully indexed, and will not suffer slow-loading ranking penalties. Optimizing the TTFB of your site is a good place to start to minimize the effects of speed on your SEO rankings.
The size of the average web page passed 1600K for the first time in July. Page size appears to inversely correlate with site traffic.