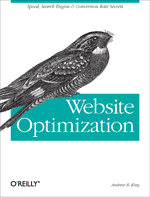 Speedy Mobile Sites Impact Google Rankings, Use a Website Accelerator, Velocity 2013 New York City Highlights - Optimization Week of November 29, 2013
Optimization Week Issue #130, November 29, 2013
In this issue we look at the importance of mobile sites on search engine rankings, review website accelerators, and give highlights of the recent Velocity Web Performance Conference in New York City. Having a mobile site is an important element in your search marketing strategy, now more than ever. Google is now factoring in mobile site speed, and the mere existence of a mobile site affects your search engine rankings. Manual website optimization is one way to speed up sites, but some companies don't have the bandwidth to accomplish the necessary tweaks, that's where automated website accelerators come into play. Google's mod_pagespeed is one free option, but commercial options can give you more features and performance. We review Radware's Fastview product and came away impressed. Finally we attended the first Velocity Conference this past October in NYC, we've got highlights. Happy Black Friday!
Having a speedy mobile site affects your search engine rankings. Google looks at speed across the board, on your desktop and mobile sites. In fact, the mere existence of a mobile site affects your search rankings, according to developers. So to ensure your business isn't left out in the cold, make sure you've got a responsive (in more ways than one) mobile site.
Automated website acceleration products can speed up your site without developer intervention. We test the effectiveness of Radware's Fastview appliance on a test site and find significant improvements in speed. Based on the recently acquired Strangeloop product, Fastview automates a number of best practices to speed up load times and improve conversions.
For the first time, the Velocity Web Performance and Operations conference was held in New York City. While the leaves were falling in October load times were also falling with thousands of developers attending, including yours truly. Mobile performance was a hot topic once again, with its own track and many how-tos and hands-on demonstrations. Read on for highlights from the conference, including some @media versus display:none; gotchas.