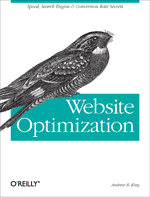 JPEGmini Graphics Optimization Service Reviewed, US Broadband Penetration Drops to 27th Place Worldwide, New Website Optimization Book Coming - Optimization Week of September 9, 2011
Optimization Week Issue #123, September 9, 2011
This time we've got three new items for you. First up, we review a new online graphics optimization service, JPEGmini. This innovative new service shrinks down JPEG images to 1/5 or even 1/6 of their original size, with no change in appearance. We test drive the new service. Next up the US has dropped a couple places in broadband penetration over the past year, according to a recent survey. Finally there is a new Website Optimization book on the horizon from Wiley.
JPEGmini is JPEG optimization software that reduces the size of photographs by up to 5 or 6 times, while maintaining their visual quality. WSO tests the free service and interviews the CTO of ICTV.
The United States dropped two places in broadband penetration rankings in just over a year, according to a survey by Point Topic. Serbia leads the world with an annual broadband growth rate of 68%.
Rich Page has announced that he will be writing a new book for Wiley titled, Website Optimization: An Hour a Day. The book is due out this spring at the earliest, and is based on an expanded version of a new eBook he wrote. Rich says the new book will be about 300 pages in length.