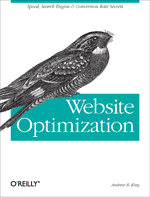 VoiceAmerica to Interview Author Andrew King - Optimization Week of May 20, 2009
Optimization Week Issue #108, May 20, 2009
Author Andrew B. King will be interviewed on VoiceAmerica radio on Thursday May 21, 2009 at 7pm EST (4pm Pacific time) for a one hour show. Host Stephan Jacob will be interviewing the author of Website Optimization Secrets, from O'Reilly on optimizing websites.
The host will be taking calls so feel free to call in and ask Andy website optimization-related questions (speed, search engine, conversion, etc.) at 1-866-472-5788. This is your chance to ask those burning questions that have been vexing you about website optimization and SEO. For more information and links to the show see:
VoiceAmerica Interview Story on WebSiteOptimization.com

An online tech talk radio program, featuring Stephan Jacob.