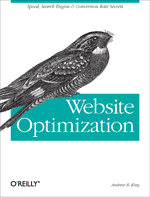 Offload Resource Intensive Scripts to Improve Server Performance - Average UK Broadband Speed Is 3.6Mbps - Google Exposes Bandwidth Throttling - Optimization Week of February 14, 2009
Optimization Week Issue #105, February 14, 2009
In this first issue of the new year we report on a performance tweak, a broadband trend in the UK, and our ongoing redesign. After we upgraded our server to a solid-state drive and faster processors users were still experiencing slowdowns under heavy loads. Tests showed that the Web Page Analyzer was the cause of the problem, eating up resources and slowing down the server. By offloading this resource-intensive script to another server we significantly improved response times and throughput. In a recent survey, UK users averaged 3.6Mbps for download speeds, less than half of the advertised speed of up to 8Mbps. Lastly, we've finalized the redesign of WebsiteOptimization.com, and are currently creating the XHTML and CSS. We're also converting the site to PHP from XSSI for performance and flexibility.
This article shows how offloading resource intensive scripts can significantly improve web server performance. By offloading the Web Page Analyzer script to a separate server, we improved response times by over 98%, improved throughput by a factor of 40, and significantly reduced response time variability.
Broadband subscribers in the UK experience an average download speed of 3.6Mbps, only a fraction (45%) of the advertised speed of up to 8Mbps. Google has just the answer to disgruntled broadband subscribers, launching a new M-Lab service to measure user connections.
We've finally redesigned the WebsiteOptimization.com web site (pending). The new design keeps the purple theme, but adds in a contrasting color, some conversion improvements that we talk about in our book, and some surprises. We're also converting the site from XSSI includes to PHP includes to allow more custom features. We'll keep you posted on our progress.