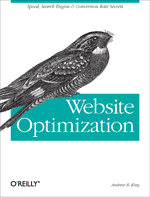 Web Performance Books - UK to pass Canada in Broadband - Italian Book Review - Optimization Week of October 29, 2008
Optimization Week Issue #102, October 29, 2008
Three new items for you this week. First up, to put Secrets in context, we round up all the more recent books on web performance from O'Reilly. Next, in our worldwide broadband survey we find fiber dominating in advanced markets (Japan and Korea), and the UK will soon pass Canada to become the number one country in the G7 for broadband penetration. Finally, we've received our first book review in a foreign language, and it is in Italian (translation available via Google).
We sum up the available books on web performance from O'Reilly. Note that there is talk of a second book from Steve Souders tentatively titled "High Performance Web Sites, Part II," based on a slide show he gave.
The UK will pass Canada in broadband penetration in late 2008, according to projections by Website Optimization. Japan and Korea now have more fiber-based broadband connections than DSL or cable.
Paulo De Nictolis has reviewed the Nighthawk book for the main Italian IT portal Programmazione.it. In this in-depth review, Paulo concludes that the "text is full of practical advice, and [it has an] excellent companion site.