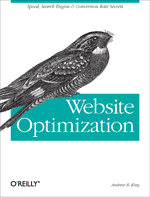 Homepage Usability and Credibility Survey - OECD Broadband Report Questioned - New Book: Webbots, Spiders, and Screen Scrapers - Optimization Week of June 1, 2007
Optimization Week Issue #80, June 1, 2007
In this issue we've got three new items for you. First up we summarize a recent homepage survey comparing the Fortune 30 to Inc Magazine's fastest growing companies. The results may surprise you. Next, a recent OECD Broadband report has been questioned by two sources, and the OECD fires back. Finally we announce a new book on web spiders by Mike Schrenk.
A usability survey revealed that high growth companies are not evaluating and improving their home page designs in a systematic way. By comparing the home pages of the Fortune 30 against Inc Magazine's fastest growing companies, researchers from Minnesota State University found the Fortune 30 had a usability score over 36% higher than the fast growing companies.
Questions over a recent OECD broadband report have caused a broadband broughaha among the cognoscenti. Broadband penetration in US homes grew to 81.8% among active Internet users in April 2007.
Written primarily for web programmers, this new book shows you how to download, parse, and manipulate web pages and data. Written by Michael Schrenk, an experienced webbot programmer, the book shows programmers how to create automated webbots and spiders that mimic human behavior while honoring website protocols and conventions. You'll learn how to download and parse web pages, automate form submission, monitor prices, capture images, verify links, and automatically browse websites. Schrenk shows how to create a search ranking webbot, aggregate news, manipulate email, and create spiders that crawl and probe with authentication and cookies. Note that our own Web Page Analyzer makes a cameo appearance in this book. From No Starch Press.